30th June 2011 Content supplied by:
Rapid Micro Biosystems New Demo Center in Europe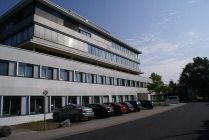 Rapid Micro Biosystems have announced the opening of a state-of-the-art demo center located in Darmstadt, Germany.
The new space provides a dedicated demonstration environment for showcasing the Growth Direct™ system - the company´s automated, rapid, non-destructive microbial enumeration device - in a simulated lab environment.
The center will exhibit automated rapid detection and its value to the microbial QC user. In addition to the demonstration space, the facility also includes a spacious conference room and reception area for visitors.
"We are excited about the new facility and look forward to the opportunity to demonstrate to those companies that want to accelerate and automate their microbial testing the unique value that Growth Direct™ can bring to businesses," said Christof Hasse, Rapid Micro Biosystems´ European sales manager.
"The European Market is integral to our success, and this demo center enhances our commitment to Europe," said Steve Delity, CEO of Rapid Micro Biosystems. The new facility is located in Darmstadt, Germany, approximately 26 kilometers from the Frankfurt airport.
For more information about the facility, or to schedule a demonstration of the Growth Direct system, visit www.rapidmicrobio.com
Tags:
Date Published: 30th June 2011