15th July 2013 Content supplied by: 3M
New Listeria monocytogenes assay for 3M Molecular Detection System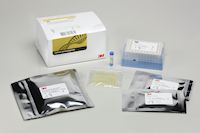 3M Food Safety have launched its new 3M™ Molecular Detection Assay Listeria monocytogenes. This is the fourth test available for the award-winning 3M™ Molecular Detection System, which provides pure and simple testing for dangerous pathogens in a variety of food matrices.
The 3M Molecular Detection System is a breakthrough for the food and beverage industry. The 3M Molecular Detection Assays use isothermal amplification of nucleic acid sequences, plus bioluminescence to detect the amplification. Presumptive positive results are delivered in real-time while negative results are displayed after the assay is completed. The system is an innovative solution that is fast, cost-effective and easy to use, without sacrificing sensitivity or specificity.
The 3M Molecular Detection System was introduced to food processors, third-party reference laboratories and other customers in December 2011. The rapid, qualitative technology is applied to enriched food as well as food process samples.
For more information on the 3M Molecular Detection System and the now available 3M Molecular Detection Assay Listeria monocytogenes, visit www.3M.com/3MMolecularDetectionSystem/LM
Tags:
Date Published: 15th July 2013
Source article link: View