1st February 2017 Content supplied by: Labplas Inc.
Labplas Free Trial Offer - New Twirl'Blue Sterile Sample Bags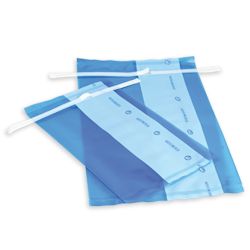 Labplas introduces a new line of products specifically for the food industry.
In food factories, several tests must be performed on surfaces which come into contact with food as well as environmental surfaces, to determine whether the plant is contaminated or not. Collecting samples requires sterile equipment and must be done meticulously to avoid possible sample contaminations. Foreign matter contamination is a possibility in the food industry, therefore Twirl'Blue sterile bags are highly visible in order to work alongside your diligence and avoid possible product recalls

Features & Benefits of Twirl'Blue Bags include:
Blue color tear-off for increased visibility;
Distinct color to avoid possible foreign matter contamination;
Visual recognition of the product, but can also be used to segregate within the factory environment
Made with virgin Polyethylene, food contact approved;
Optimized opening area to facilitate insertion of sample;
Lot number traceability for every product;
Bags accommodate solid, semi-solid and liquid compounds;
All sterile sampling bags are also R-NASE, D-NASE and Pyrogen free
Be the first 100 to request a box of our Twirl'blue free of charge
Simply send us a request via our website using our live support chat. This is a worldwide offer and free of charge.
Don't forget to mention the promotional code "For a blue world".
Tags:
Date Published: 1st February 2017
Source article link: View