26th January 2015 Content supplied by: Hygiena
Easy-to-Use Rapid Salmonella Environmental Monitoring Test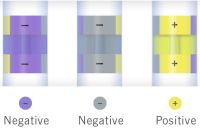 Hygiena has introduced the newest addition to its line of rapid microorganism tests; InSite Salmonella is a rapid and convenient colorimetric Salmonella species test for environmental surfaces.
InSite Salmonella is a self-contained, ready-to-use swab test which contains a specialized liquid medium which changes color when Salmonella species are present in the sample. A color change from purple to bright yellow indicates presence, with positive results in as early as 24 hours from sample collection. The all-in-one test device eliminates the need for sample preparation materials, saving material and labor costs. Other environmental Salmonella species test kits require several complicated steps including measurement and mixing of media, sample enrichment, and transfer of enriched sample to the test device. InSite Salmonella's convenient design eliminates the need for any special preparation, measurement, or enrichment outside the test device, simplifying the assay so any level user can successfully run the test, virtually eliminating the possibility of operator error.
Environmental pathogen screening, such as with InSite Salmonella, is a critical element of a comprehensive environmental monitoring program for certain food manufacturers. Not only does environmental monitoring verify sanitation is effective, it is also part of a well-designed preventive control verification program. The US Food and Drug Administration's proposed rule for preventive controls in the Food Safety Modernization Act suggests emphasis on environmental pathogen monitoring for food processors with significant contamination risk. Accordingly, InSite Salmonella meets the needs of food processors for a rapid, convenient, and affordable environmental pathogen screening test kit.
InSite Salmonella joins Hygiena's line of rapid microorganism tests, including those for Total Viable Count, Listeria species, Enterobacteriaceae, Coliform, and E. coli. Other products from Hygiena include the world's best-selling ATP monitoring systems and convenient allergen prevention test kits.
For more information about InSite Salmonella, contact Hygiena or learn more about InSite Salmonella here. 
Tags:
Date Published: 26th January 2015
Source article link: View