18th April 2016 Content supplied by: Cherwell Labs
Cherwell Supports Pharmig PCT Microbial Risk Event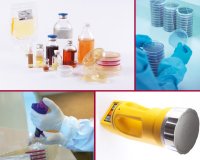 Cherwell Laboratories, specialist suppliers of products for environmental monitoring and process validation, will be supporting Pharmig and the Cosmetic, Toiletry & Perfumery Association (CTPA) at their upcoming event: Microbiological Contamination and Risks for Pharmaceuticals, Cosmetics and Toiletries (PCT).
The event, being held at The Oxford Belfry on 21st April 2016, will see leading industry experts addressing key issues such as: microbial risks from utilities; environmental cleaning and disinfection protocol; objectionable microorganisms in cosmetics, as well as validation as an integral part of cosmetic GMP.
As members of Pharmig, Cherwell Laboratories aim to contribute to the discussions, as well as being on hand to offer practical advice and solutions tailored to meet individual customers' specific microbiological monitoring and validation requirements. A selection of Cherwell's comprehensive range of products - designed for environmental monitoring, process validation applications and validation of sterilisation processes - will also be on display.
With over 40 years' experience in the industry, Cherwell has built a strong reputation for providing an extensive range of products for both passive and active environmental monitoring. Suitable for air and surface sampling, the Redipor® prepared microbiological media range is available in a variety of formats, including contact plates, Petri dishes and liquid media. Available for active environmental monitoring, SAS microbial air samplers utilise standard agar contact plates or Petri dishes. This range includes hand held air samplers, plus specialist systems for compressed air monitoring, isolator monitoring and filling line monitoring.
Andrew Barrow, Sales Manager at Cherwell Laboratories, commented, "We recognise how important it is for microbiologists and quality specialists to keep up to date with regulatory and safety requirements of good manufacturing practice for cosmetics and toiletries. This meeting provides the opportunity to learn and share such information, so we look forward to supporting and attending the event, as it also allows us to offer practical advice and solutions to meet any specific microbiological requirements."
For more information about Cherwell Laboratories, please visit www.cherwell-labs.co.uk or follow @CherwellLabs on Twitter.
Tags:
Date Published: 18th April 2016
Source article link: View
Related news