23rd July 2012 Content supplied by:
Cherwell Expands Clean Room Facilities for Redipor® Prepared Media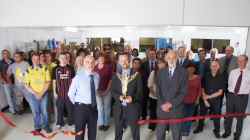 Cherwell Laboratories has successfully completed the first phase of its clean room expansion.
Investment in the expanded facility, which follows the acquisition of additional space in adjacent premises, will ensure Cherwell supports the growing demand for its Redipor® Prepared Media, whilst maintaining the stringent quality requirements for its preparation.
The completed clean room will double the existing space from 440m2 to over 940m2 and allows further improvements in product quality, as well as the automation of processes. Phase I covers 270m2 with a new inspection and packing room, plus associated support rooms, including new gowning and office space. All Redipor prepared media products continue to undergo 100% inspection ensuring customer confidence to use the prepared media within critical areas.
The new inspection and packing room contains new flow wrap machinery to automate part of the packing process and offers increased space to allow Cherwell to continue to provide bespoke solutions to customers. A new automatic labelling system has also been introduced to reduce handling and increase reliability. This new system provides automated label application to packs of plates and a clearer, more consistent label.
The completion of Phase II of the clean room expansion project is scheduled for 2013. During this next phase of growth, the company plans to increase production volumes to over 6.5 million agar plates per year in order to serve the UK and export markets and it is estimated that 10-15 new employees will join the existing Cherwell team.
According to Andy Whittard, Managing Director at Cherwell Laboratories, "The first phase of our clean room expansion has been a tremendous success, which would not have been possible without the effort and dedication of the whole Cherwell team especially over the past six months. The changes we have made reflect our commitment to providing customers with the highest standards of product quality." For more information about Cherwell Laboratories, please visit www.cherwell-labs.co.uk or follow @CherwellLabs.
Tags:
Date Published: 23rd July 2012