1st March 2016 Content supplied by:
BaxApp Allows Whole Team Mobile Access to BAX® System Results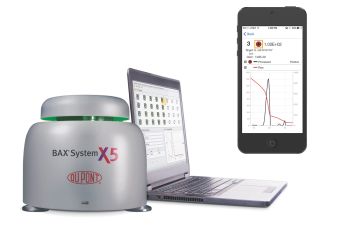 Hygiena has acquired DuPont Diagnostics, the global food safety diagnostics business of DuPont. Including the BAX® System, RiboPrinter® System, Lateral Flow System, StatMedia™ and Dehydrated Culture Media. Visit
www.hygiena.com/bax.html
DuPont Diagnostics has released a mobile application to help customers view their company's food pathogen testing results on the go. The DuPont BaxApp, available as a free download in the Apple App Store and iTunes, allows users to open BAX® System software files from emails, hosting services and other sources, without needing to access a networked computer.
The DuPont™ BAX® System – an automated, PCR-based pathogen detection platform for food safety and quality testing – generates testing results after each process run as a .bax file, which previously could be viewed only on a computer running the appropriate BAX® System software. With the introduction of the mobile BaxApp, technicians, lab managers and customer support teams can view the same results files on a mobile device, which can help minimize review times and allow companies to act more quickly to address potentially critical food safety issues.
"The DuPont BaxApp is a valuable tool for companies that want to access their pathogen testing results outside of the laboratory – or even outside of the office," said Jeff Rohrbeck, Diagnostics systems development manager, DuPont Nutrition & Health. "The feedback we have received for this functionality so far is overwhelmingly positive, and we are proud to offer this service to our customers to help improve response time for their testing needs."
Tags:
Date Published: 1st March 2016