7th December 2015 Content supplied by: 3M
Next Generation Molecular Detection Assay for Listeria Gains AOAC PTM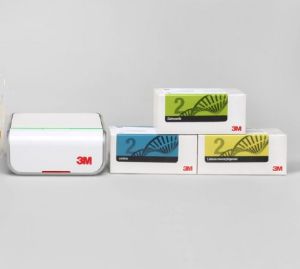 The 3M™ Molecular Detection Assay 2 – Listeria has been approved by the AOAC® Performance Tested MethodsSM program (Certification #111501). The approval certifies that this new second-generation test kit is equivalent or better than standard reference methods in the detection of Listeria spp. within a variety of food matrices and environmental surfaces.
Achieving AOAC PTM status required a rigorous, independent laboratory examination of 3M's unique molecular test method's ability to accurately detect Listeria spp. Food samples analyzed during the validation study included beef hot dogs, deli turkey, raw chicken leg pieces, raw chicken fillets, sealed concrete, plastic, stainless steel, melon, smoked salmon, romaine lettuce, queso fresco, vanilla ice cream, 4 percent milk fat cottage cheese and raw spinach.
"We're pleased to be saving food processors and testing laboratories time in their efforts to detect Listeria in food," said John David, global business manager with 3M Food Safety. "Having third-party validations reaffirms the robustness of the technology and further demonstrates our commitment to ensuring our products meet the highest performance standards."
The latest Listeria assay is one of three test kits that were expanded on the innovative 3M™ Molecular Detection System platform. The 3M Molecular Detection System is designed around food processors' needs for rapid pathogen detection and based on unique isothermal DNA amplification and bioluminescence detection technologies that provide a faster and simpler testing method with high accuracy. The new Listeria test kit now provides a reduced time-to-result – as little as 24 hours of enrichment – and features a streamlined workflow that is 30 percent faster than the first generation assay, originally launched with the platform in 2011.
For more information, visit www.3M.com/
Tags:
Date Published: 7th December 2015
Source article link: View
Related news