22nd May 2012 Content supplied by:
Approved Reliable Method for Global Bottled Water Safety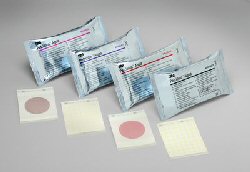 3M Food Safety have announced that its 3M™ Petrifilm™ Aqua Coliform Count Plate has received NF VALIDATION from France-based Association Française de Normalisation (AFNOR) for its ability to detect and enumerate colonies of Escherichia coli and coliform bacteria in bottled water samples.
"AFNOR's validation provides an important vote of confidence - one we know customers around the entire world trust and respect"
Validated against ISO 9308-1, the AFNOR certification confirmed that the microbiological analysis of 3M's indicator technology performs as well or better than conventional and more time-consuming reference methods. This compliance follows prior validation of the 3M Petrifilm Aqua Coliform Count Plate as a Performance Tested Method (PTM) in the U.S. under the guidelines of the Maryland-based AOAC Research Institute. Both validations are important developments for evaluating the efficacy of the 3M product for guaranteeing safer bottled water sources worldwide.
The 3M Petrifilm Aqua Plate technology was introduced globally in March 2011, offering bottled water processors a microbial testing tool that delivers simplicity, consistent performance, minimal storage and enhanced productivity, compared to reference methods that use bulkier media pads, disposable filter funnels and agar petri dishes.
The NF VALIDATION process is comprised of two phases. It starts with a preliminary study in which a single, expert lab thoroughly tests the new technology protocol's effectiveness versus standard methods. Subsequent to that, a collaborative study occurs where multiple laboratories compare the efficacy of both the new test method and reference method under defined conditions of reproducibility and repeatability. In the case of the 3M Petrifilm Aqua Coliform Count Plate, secondary study results ultimately involved data from nine separate, independent laboratories dispersed throughout four countries.
"AFNOR's validation provides an important vote of confidence - one we know customers around the entire world trust and respect," said Marie-Pierre Copin, 3M Food Safety regulatory affairs specialist in France. "Safe water is obviously a global concern, and water bottlers everywhere need reliable methods of assurance against harmful organisms like coliform and E. coli."
Offering efficiency without compromise to accuracy has been the calling card for 3M's Petrifilm technology for years. In a separate analysis, not AFNOR or AOAC, in 292 food processing plants, it was determined that substituting traditional agar with 3M Petrifilm plates represented an 80 percent increase in technician productivity, as measured by tests per hour. That translates to a savings of 3.7 technician hours each day for companies, allowing time to be diverted to sampling, production monitoring, HACCP programming or other priorities.
Visit www.3M.com/foodsafety for further information.
Please note : Any products described on this page are for Research Use Only and not intended for clinical diagnostic procedures unless otherwise stated.
Tags:
Date Published: 22nd May 2012
Related news