15th December 2015 Content supplied by: Merck
Advances in Bioburden Testing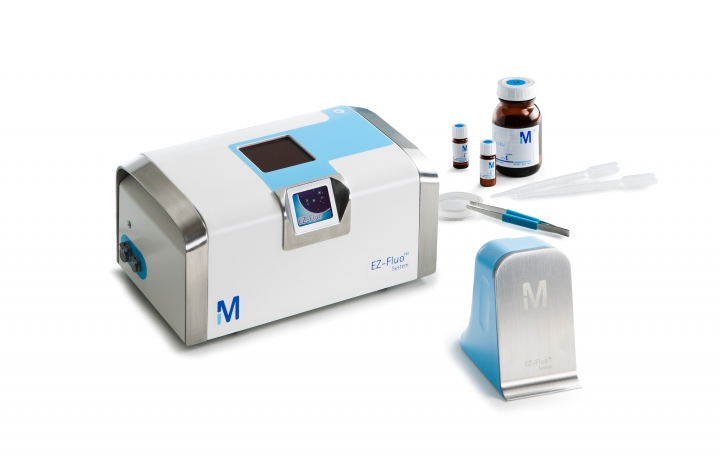 by Anke Hossfeld, Global Product Manager, In-Process Testing, Merck KGaA, Germany.
Traditional methods for the detection of microbial contamination have an increasingly difficult time providing value in today's fast-paced world of food and beverage QC laboratories. Traditional methods, which typically require several days to provide results, can be inconvenient when trying to release product to the market, or to conduct quick investigation.
More and more laboratories are switching to rapid methods for detection of microorganisms such as yeast, mold and bacteria. Faster methods give the user better control over their manufacturing process by addressing contamination events sooner, significantly reducing their time to result. Rapid detection methods ensure that the user receives accurate, reliable results much faster than with traditional methods.
The EZ-Fluo™ rapid detection system from the Life Science Business of Merck represents the latest in microbial detection. It offers fast quantitative detection of microorganisms over a broad range of filterable samples, and is capable of providing results in 1/3 of the time required using traditional techniques. The system's speed, which does not compromise quality or reproducibility, means that laboratories can advance products to market in record time.
The EZ-Fluo™ system has many applications, including testing of raw materials, in-process samples, final products and environmental samples. The system is a fluorescent staining-based system for microbial detection that is cost effective for routine use as well as investigation. The EZ-Fluo™ system consists of a reader and staining reagents used in combination with regular 47 mm filtration membranes and standard media. The use of Merck membranes and comprehensive media portfolio can help the user to obtain optimal results.
The system is compact, and can easily fit on any laboratory bench. The EZ-Fluo™ system can also be validated and integrated in any laboratory without causing disruption. The use of an optional camera offers the user traceability of results, as well as comfort in reading.
Test results from the EZ-Fluo™ system can be easily compared to compendial method test results. Therefore, the system is able to be validated and integrated without causing disruption in the laboratory. The system uses standard membrane filtration to detect viable and culturable microorganisms down to 1 CFU per sample.
In addition, the EZ-Fluo™ system is a non-destructive method, and is compatible with any ID technique. While most other rapid test systems cannot identify microorganisms using the same sample that was tested to detect the contamination, the EZ-Fluo™ system has a clear advantage, provided by its re-incubation capability. It allows the user to grow the microorganisms after they have been stained in order to identify them using any standard identification technology. This gives the system an advantage over other rapid test systems in that it can identify microorganisms using the same sample that was tested to detect the contamination.
In today's QC laboratories, fast and accurate results are crucial when evaluating food and beverage. The EZ-Fluo™ system from Merck offers a solution for microbial detection that prioritizes both speed and accuracy. Use of this system can help laboratories minimize risk and provide better protection to consumers.
For more information on the Merck EZ-Fluo™ rapid detection system, visit the Life Science Business of Merck at www.merckmillipore.com or use the Request More Information button below.
Tags:
Date Published: 15th December 2015
Source article link: View