Upcoming Events: Veterinary
: 3 Oct 2022 - 5 Oct 2022
: Amsterdam, Netherlands
Sector: Food & Beverage, Pharmaceutical, Veterinary, Water Type: Conference - In person
Summary : RME2022 is the 14th conference in the Rapid Methods Europe series dedicated to innovations and breakthroughs in rapid analysis & diagnostics across the agri-food, water, animal health and healthcare sectors. more...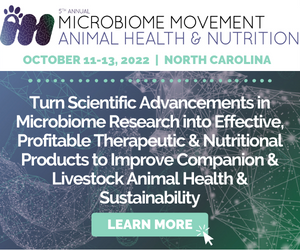 : 11 Oct 2022 - 13 Oct 2022
: Raleigh, United States
Sector: Veterinary Type: Conference - In person
Summary : The 5th Microbiome Movement - Animal Health & Nutrition Summit is the definitive forum for experts in the animal microbiome-targeting industry, who are trying to define the connection between a healthy animal microbiome and sustainable livestock sustainability in order to amplify product pipelines. more...