Thermo Scientific MSC-Advantage Class II Biological Safety Cabinets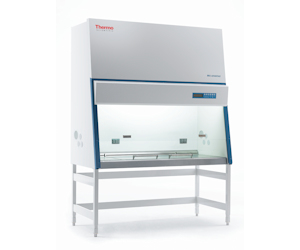 Principle: HEPA filtered air for user and sample protection
Automation: YES
Approvals: Fully compliant with the EN 12469 safety standard as independently tested and certified by TUV Nord
IEC 1010-1 / EN61010-1
EN 12469 / 2000
DIN 12980
Low Voltage Directive 73/23 EWG
EMC Directive 89/336 EWG
Suitability: Suitable for labs needing to protect their analysis and personnel from contamination
Capital equipment required: YES
Description:
Conserve energy with Thermo Scientific™ MSC-Advantage™ Class II Biological Safety Cabinets, which combine smart design and extraordinary value with best-in-class energy efficiency, reliability and usability resulting in an overall improvement to operation and maintenance. Units feature 60% less energy consumption and heat output. Cabinets are certified to EN 12469 safety standard.
Key Points:
Designed to maximize sample protection and operator safety
Thermo Scientific™ SmartFlow™ technology automatically balances inflow and downflow velocities
Visible display of operation status for improved user confidence
Extremely comfortable ergonomic design promotes safe working conditions
Maximised energy efficiency due to dual DC motors
Please note : Any products described on this page are for Research Use Only and not intended for clinical diagnostic procedures unless otherwise stated.
Areas:
Clinical

Food & Beverage

Laboratory Equipment

Pharmaceutical

Water