PrepaRed™: the easy filtration solution for standard applications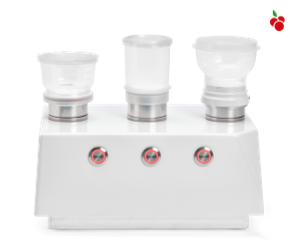 Principle: PrepaRed™ is an easy-to-use and compact filtration equipment developed by Redberry.
Automation: YES
Approvals: Drinking waters, Water and Bioburden Testing for Pharma QC Labs, Fast Moving Consumer Goods (FMCG), Cosmetics, Food & Beverages
Capital equipment required: YES
Description:
PrepaRed™ allows you to easily perform your standard filtrations - from one to three at the same time - with filters from brands such as Redberry, Millipore, Pall, or Sartorius. Its compact design makes PrepaRed™ the space-saving solution for your microbiological control laboratory.
Willing to save space in your lab or Laminar Flow Hood while using the filtration units you need for your standard applications?
PrepaRed™ is made for you. This equipment is already commercialized.
Key Points:
Compact: All-in-one equipment (pump, valves, power supply).
Versatile: Adaptors available for all devices (Redberry, Millipore, Pall, Sartorius).
Easy to Use: One button per filtration head. No tool required.
Flexible: Customizable filtration time and Dry-outs (option).
Reliable sanitization: Autoclavable removable heads. Compliant with standard sanitization solutions.
Areas:
Cosmetic/Personal Care

Food & Beverage

Pharmaceutical

Water