DOSE IT – Peristaltic Pump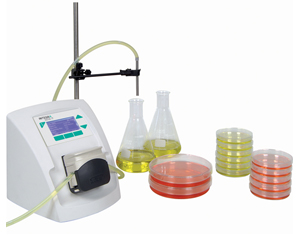 Manufacturer: INTEGRA Biosciences AG
Automation: Yes
Suitability: Dispensing a broad range of dosing volumes, density gradients
Capital equipment required: Yes
Description:
Whether dispensing small doses or high-throughput pumping, the peristaltic pump DOSE IT makes dispensing efficient. The compact, lightweight design allows the DOSE IT to be placed virtually everywhere in the lab. DOSE IT provides customized liquid handling protocols. The setting of all parameters is self-explanatory, even the flow rate can be set to ramp up or down to the target speed.
Key Points:
Large display and clear user guidance for fast setup and use.
Memory for 20 dosing protocols for conveniently switching between different applications.
Wide range of tubing sizes for precise dosing of millilitres to litres of various media, buffers, etc.
Compact and portable design for minimal space consumption and maximal user friendliness.
CUSTOMIZE mode for easy and efficient creation of personalized liquid handling protocols.