8th July 2013 Content supplied by: Diasorin Molecular Diagnostics
Unique Molecular Assay Diagnosis of Parvovirus B19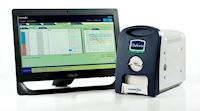 The molecular division of DiaSorin has launched the unique, highly sensitive Iam Parvo assay, a rapid quantitative molecular assay for use on the Liaison® Iam instrument. DiaSorin are the global leader in Parvovirus B19 serology testing, and the addition of this molecular assay expands its diagnostic portfolio for this potentially life-threatening virus.
Parvovirus B19 (B19V) infection is common and occurs worldwide, with epidemics following a 3-4 year cycle. The virus is typically acquired in childhood when it causes the mild, self-limiting rash illness erythema infectiosum (commonly known as 'slapped cheek' or 'fifth disease'). It is transmitted through respiratory droplets and can vary in severity from asymptomatic to life-threatening illness.
B19V infection during pregnancy can have severe consequences. Infection can transfer from mother to foetus across the placenta and may cause foetal death or poor outcomes (including severe neurological disease) in surviving babies.1 B19V is also problematic in immunocompromised patients and is the leading cause of pure red cell aplasia in AIDS patients. In individuals with sickle cell anaemia, B19V infection can result in transient aplastic crisis (TAC). Chronic B19V infection can lead to persistent and severe anaemia and is also associated with conditions such as arthropathy, glomerulonephritis and neurological disease.
"With this molecular assay launch we underpin DiaSorin's leadership in Parvovirus B19 testing and demonstrate our commitment to providing a complete diagnostic solution for this important infectious disease," said Paul Eros, Global Vice President Molecular, DiaSorin. "Iam Parvo is the latest addition to the unique and rapidly expanding DiaSorin Q-LAMP assay portfolio for our Liaison® Iam molecular instrument, a benchtop device which meets the needs of laboratories by providing them with a cost-effective, scaleable, molecular diagnostic solution."
Calibrated against the WHO standard for B19V, Iam Parvo provides exceptional time-to-result benefits when compared to PCR, with equivalent specificity. The Liaison Iam instrument uses DiaSorin's proprietary Q-LAMP technology.
"People should not confuse DiaSorin Q-LAMP with conventional LAMP technology", continues Eros, "DiaSorin Q-LAMP assays provide many advantages. They are rapid, real-time, fluorescent, quantitative/qualitative assays designed to be used for multiplexed applications, enabling amplification and detection of multiple targets in a single reaction".
The Iam Parvo assay is CE-IVD validated for use outside of the USA and Canada only.
For more information about the Iam Parvo assay and the Liaison Iam molecular instrument email info@ie.diasorin.com or visit www.diasorin.com
Reference: 1. Parvovirus B19 in pregnancy: prenatal diagnosis and management of fetal complications. Dijkmans A.C. et al. Curr. Opin. Obstet. Gynecol. (2012) 24:95-101.
Please note : Any products described on this page are for Research Use Only and not intended for clinical diagnostic procedures unless otherwise stated.
Tags:
Date Published: 8th July 2013