28th March 2005 Content supplied by: Pro-Lab Diagnostics
Testing Times for E.coli O157:H7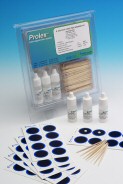 The Prolex™ E.coli O157 Latex Test Reagent Kit offers a rapid agglutination test kit for the presumptive identification of E.coli serogroup O157.
Escherichia coli serotype O157:H7 is a verotoxin producing (VT-producing) pathogen reported as an etiological agent in sporadic and outbreak cases of haemorrhagic colitis. It is also associated with haemolytic uraemic syndrome. Certain E.coli serotypes other than O157:H7 also produce verotoxin. However, the diarrhoea caused by these other serotypes is not usually bloody. Additionally, E.coli serotype O157:H7 does not ferment sorbitol whereas the majority of other serotypes do ferment sorbitol. Therefore, if Sorbitol-MacConkey agar medium is used as a primary screen, the colonies of E.coli serotype O157:H7 appear colourless (non-sorbitol fermenting colonies - NSFC) while colonies of other serotypes appear characteristically pink (sorbitol fermenting colonies - SFC).
The Prolex™ E.coli O157 latex kit reliably identifies E.coli strains associated with haemorrhagic colitis and haemolytic uraemic syndrome. Results can be obtained in two minutes with a single colony taken directly from selective agar. This unique reagent has also been developed to remove common cross reactions with other similar "O" and "H" antigens, in particular E.hermanii also a NSFC on Sorbitol-MacConkey agar.
Latex particles are coated with an antiserum against E.coli O157 antigen. When the coated latex particles are mixed with fresh colonies of E.coli serotype O157 the bacteria will bind to the antiserum, causing the latex particles to visibly agglutinate (positive reaction). Bacteria which are not O157 serotype will not bind to the antiserum and will not result in agglutination (negative reaction).
Available in 50 and 100 test formats, each kit has a maximum shelf life of approximately two years from date of manufacture, and includes mixing sticks, agglutination cards, positive and negative controls. Also available is a single latex reagent for the identification of the E.coli flagella H7 antigen, allowing for the complete definitive identification of E.coli O157:H7.
Product Reference: PL070 E.coli O157 Latex Kit 50 Tests PL071 E.coli O157 Latex Kit 100 Tests
Please note : Any products described on this page are for Research Use Only and not intended for clinical diagnostic procedures unless otherwise stated.
Date Published: 28th March 2005
Source article link: View
Related news