4th June 2018 Content supplied by: INTERSCIENCE
Real-time Incubator and Colony-counter Large Capacity - NEW ScanStation 200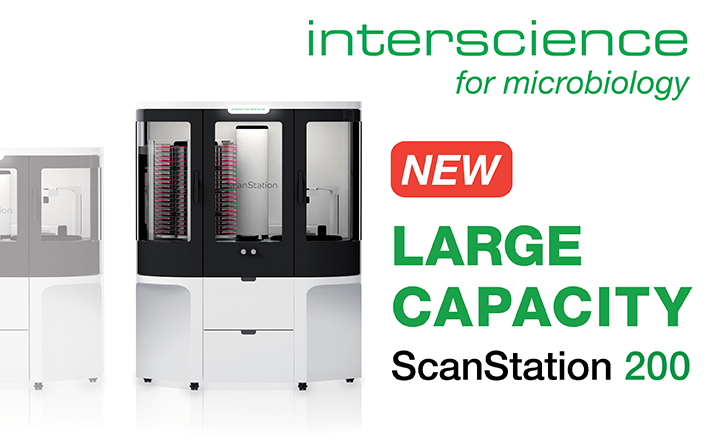 After the success of multiple award winning ScanStation 100, INTERSCIENCE has launched the ScanStation 200, a large capacity model, able to incubate and count in real-time up to 200 Petri dishes.
ScanStation is a revolution for microbiological analyses: it detects and count colonies as soon as they appear at the beginning of the incubation. It is a real-time revolution providing anticipated results for control quality labs in the pharmaceutical, agro-food, cosmetic industries and research. The anticipated results saves time and allows earlier release of production batches.
"To actually see, in real-time, the video of bacterial growth on the Petri dishes is truly innovative. Counting the colonies from the first stages of their development is really surprising for a microbiologist and ensures a totally new quality and speed of results." says Sylvie Viboud, PhD, Head of Microbiology at INTERSCIENCE.
Features and benefits of the ScanStation include :
Fast - colony counting begins at an early stage of the colony development, starting from 8h of incubation.
Accurate - colonies are detected before clustering or spreading can occur
Time-saving - automatic colony counting during incubation for 200 Petri dishes saves time
Anticipated results - earlier release of production batches, with plates available for confirmation
Powerful, intuitive software - an easy-to-use touchscreen interface for counting and control
Watch the Video : www.interscience.com
Multiple award winner :
- Innovation Award Trophy (Productivity / R.O.I categories) – Forum Labo, Paris, France
- General Public Award Trophy 2017 – Forum Labo, Paris, France
- Design Oberver Label 2018 – Observer du Design, Paris, France
- Innovative Companies' Trophy 2017 – Cci / La Montagne, Aurillac, France
Tags:
Date Published: 4th June 2018
Source article link: View
Related news