29th April 2013 Content supplied by:
Rapid Bioburden Analysis and Microbial Detection Capabilities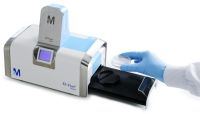 At the American Society for Microbiology 2013 annual meeting, Merck Millipore will showcase the new EZ-product family, a complete integrated solution to streamline microbial workflows in quality assurance and quality control (QA/QC) laboratories. The product family includes the EZ-Fluo™ Rapid Detection System, a non-destructive, fluorescent staining-based system for accelerated detection and quantification of microbial contamination in filterable samples. The system reduces time to result by approximately 2/3 compared to traditional methods and offers a significant advantage over other systems by enabling the use of the same sample to detect contamination and then identify microorganisms.
Merck Millipore will be at booth #833, ASM, Denver Colorado, May 18-21, 2013
There will also be a poster presentation 'Rapid and Simple Procedure to Detect the Presence of Viruses and Mycoplasma In Cell Cultures Used In the Manufacture of Biotherapeutics ' on Sunday May 19, 10:45 AM - 12:30 PM, Location: 400.
Tags:
Date Published: 29th April 2013
Related news