24th April 2012 Content supplied by:
Now Dispensing is Easy with FlexiPump® by INTERSCIENCE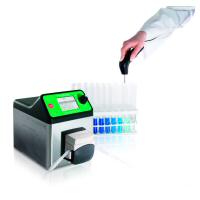 INTERSCIENCE have introduced two peristaltic pumps for culture media preparation.
This a perfect tool for serial dispensing of culture media, agar or any liquid diluent. It is compact, has an intuitive interface and good ergonomics. Its speed and precision guarantee an efficient and reliable sample preparation.
Key features:
Precise flow control and easy calibration FlexiPump® dispenses liquid from 50 µL to 99 L with up to 1% precision. The dispensing assembly is entirely autoclavable with a bottle for contamination free dispensing. With on screen step-by-step instructions making calibration easy with any user's chosen volume. FlexiPump® can quickly be set up for use so improving lab efficiency.
Designed for microbiologists Easy selection using a rotating button with 3 dispensing modes (continuous, dose and multi-dose) and 32 pre-set programs. An additional feature is the maintenance free aspect. FlexiPump® is equipped with high-quality Watson Marlow® pump heads and a powerful stepping motor with non wearing parts. additionally, it is made out of a heavy duty polycarbonate top casing and durable stainless steel to facilitate easy cleaning.
Compact and easy to fit in labs, only 16 cm wide, FlexiPump® and FlexiPump® Pro are compliant with ISO 6887-1 and ISO 7218.
FlexiPump® technology is available in 2 models: - FlexiPump®, with the essential functions - FlexiPump® Pro, for a high-performance dispensing
For more information email info@interscience.fr
Please note : Any products described on this page are for Research Use Only and not intended for clinical diagnostic procedures unless otherwise stated.
Tags:
Date Published: 24th April 2012
Related news