14th May 2018 Content supplied by:
New UV Monitor Kit for Large Scale Purification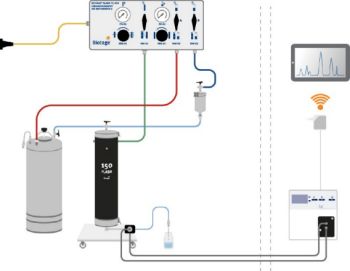 Biotage, a leading global supplier of solutions and technology for analytical, medicinal and peptide chemistry, have launched a new unique UV Monitor Kit which can be easily added to Biotage® Flash 150 and Biotage® Flash 400 systems in pharmaceutical development or manufacturing environments. The new UV Monitor Kit utilizes the latest in fiber optic connections and powerful software for post run analysis to give absolute control and confidence in large-scale purification processes.
The new UV Monitor Kit combines a robust UV monitor core with a specialist wireless tablet, optimized for use in sensitive environments, the latest in fiber optic technology and an intuitive software package to provide the most effective PAT (process analytical testing) solution available for the Biotage® Flash 150 and Biotage® 400 systems. This combination supports ATEX compliant installation in the customer production facility or laboratory environment. The system indicates the UV activity of the chromatographic flow eluting from the column, simplifying the workflow whilst helping to reduce solvent consumption, batch processing time and energy costs through less evaporation.
"Biotage Industrial Flash systems are already simple to use, stable and very robust, this new plug and play UV Monitoring Kit adds a degree of control and precision at large scale that was previously unheard of, and gives our customers absolute control and confidence over their large scale purification process," said Dr. Sunil Rana, Global Product Manager, Industrial Products.
Please note : Any products described on this page are for Research Use Only and not intended for clinical diagnostic procedures unless otherwise stated.
Date Published: 14th May 2018