4th February 2014 Content supplied by: Interscience
New Range of Silent Lab Blenders from INTERSCIENCE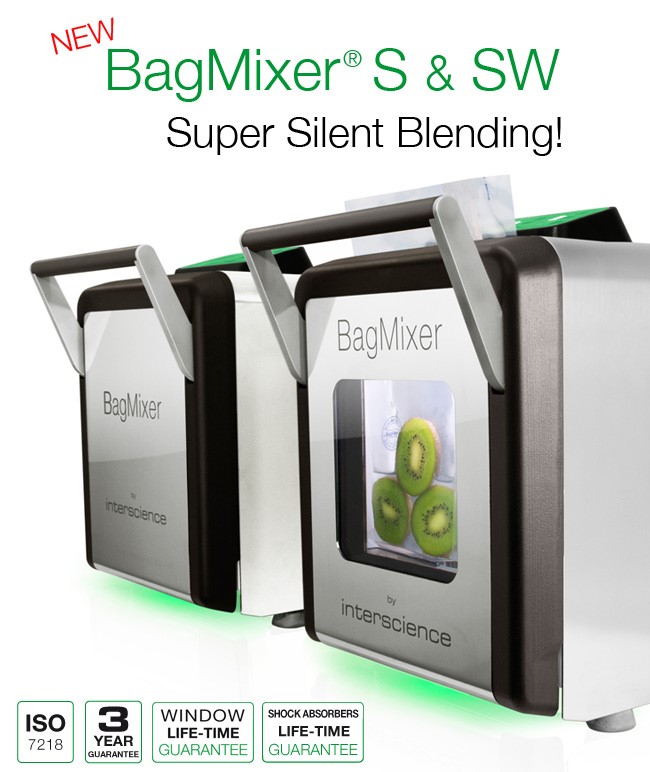 INTERSCIENCE have introduced a new range of silent laboratory blenders for improved lab comfort and safer microbiological sample preparation. The 2 new models of the BagMixer® 400 mL lab blenders range: BagMixer® S and BagMixer® SW, are the most silent lab blenders on the market with noise level of less than 48 db, they offer super silent and quick homogenizing due to a noise cancelling casing, Paulstra anti-vibration feet and double-layer polycarbonate window.
Key Features:
Patented adjustable blending power (up to 28 kg pressure per paddle) enables the blender to adapt itself to any kind of sample, only 60 seconds are required for homogenization
Advanced LightCode System indicates the stage of the blending process and the LED lighting lights up the blending chamber during blending and cleaning.
Patented LiquidSensor system automatically stops the blender if bag leakage occurs, with removable drip tray making cleaning easier
TotalAccess System enables the door to open flat on the bench for easy removal of the autoclavable Click and Clean® paddles
BagMixer® S and BagMixer® SW are part of the BagSystem range developed by INTERSCIENCE to ensure safe and quick preparation of the sample before microbiological analysis.
See and hear for yourself watch the YouTube video: www.youtube.com
FAQs:
What's new about the BagMixer® S and BagMixer® SW ?
The models have been redesigned and have 2 new patents with the TotalAccess System enabling the full opening of the door and removal of the Click and Clean® autoclavable paddles & the LiquidSensor system alerting and stopping the blending in case of liquid leakage. They have great user-friendly features such as the advanced lighting system, are easy to clean and are also super silent in comparison with classic paddle blenders.
Are they really silent ?
Yes, they are the most silent lab blenders on the market. The BagMixer® S & SW will really change the working environment of your lab: they are so silent that you can make a phone call next to them while blending:  less than 48 dB compared with 54 dB of their closest competitor.
How about the energy consumption?
The new brushless motor technology allows the BagMixer® to consume 50% less energy than the brushed motor competitors. Our motors have no wearing parts, so lasts much longer. The new AutoSleep function puts the BagMixer® in sleep mode after 30 min of inactivity.
Tags:
Date Published: 4th February 2014