28th September 2015 Content supplied by: SP Scientific Inc.
New Range of Energy Efficient Glassware Washers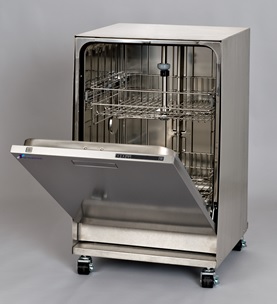 SP Scientific has introduced a new range of Hotpack Undercounter and Doublestack Glassware Washers that are engineered for productive, reliable and energy efficient operation.
Technological developments allow the new washers to deliver enhanced drying performance from an upgraded dual fan system incorporated in the washer chambers. Wash cycles with temperatures up to 70°C (158°F) enable fast, efficient cleaning of different types of glassware in wide ranging load scenarios. New soft touch features with multiple cycle selections and microprocessor control systems ensure that each load is processed with minimum energy consumption. A delayed start function allows the washer to operate unattended during off-peak hours to further reduce energy costs.
An attractive new design and ultra-quiet operation ensure that the Hotpack undercounter washers enhance any laboratory environment. Manufactured from insulated 304 stainless steel ensures long-term corrosion protection plus maintains a superior cosmetic appearance.
The new Hotpack washers feature loading and operation flexibility to accommodate a wide range of specialty baskets that fit into upper and lower racks.  Safeguarding customer investment the new washers are fully compatible with previous generations of Hotpack washer racks and accessories.
Easy to use and maintain, each Hotpack glassware washer incorporates three separate filters, conveniently located for quick access, to protect pumps from washing debris.
For further information please visit www.spscientific.com/Hotpack or contact SP Scientific on +1-845-255-5000 x2319 / James.Shiever@spscientific.com.
Please note : Any products described on this page are for Research Use Only and not intended for clinical diagnostic procedures unless otherwise stated.
Date Published: 28th September 2015