21st February 2017 Content supplied by: Copan Diagnostics, Inc.
New Molecular Assay Developers - Visit COPAN at Molecular Med Tri-Con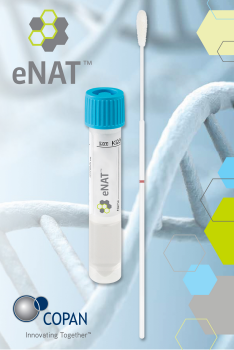 Visit COPAN during the Molecular Med Tri-Conference in San Francisco, to discover more about Copan's B2B molecular transport development capabilities and resources. The booth will feature eNat™, Copan's successful DNA and RNA preservation system suitable for a variety of sample types including urine and respiratory disease diagnostics or Hospital Acquired Infections (HAI) surveillance testing.
eNat is a nucleic acid transportation and preservation medium for detecting various microbial targets in clinical specimens using nucleic acid amplification techniques (NAATs). The Guanidine thyocianate based medium has been enriched with a detergent to increase its lysing and antimicrobial capabilities, and is optimal for stabilizing the sample. The medium inactivates infectious pathogens, eliminating the risk of exposure of lab operators to unknown agents. eNat should not be used for investigations that require the recovery and cultivation of live organisms.
For swab samples COPAN eNat is available in tubes filled with 1 or 2 ml of preservation medium combined with different types of flocked swabs, which are designed to completely elute the sample, giving the "e" in eNat its acronym. COPAN eNat is also provided in larger fill volumes combined with a sterile disposable pipet for urine transfer and preservation. While the eNat system is currently for research use only, it has been tested for compatibility with numerous automated Polymerase Chain Reaction (PCR) platforms. Nucleic acids within the eNat sample must be extracted and purified prior to being added to the Master Mix. Custom eNat configurations and other solutions for molecular diagnostics can be made upon request! Stop by booth 102 to learn more and pick up samples.
With a reputation for innovation in preanalytics, COPAN is the leading manufacturer of collection and transport systems in the world. COPAN offers a complete range of microbial sampling products used for traditional culture analysis and molecular diagnostic assays. Copan's full service molecular R&D facilities are at your disposal for fast time to market development.
Visit our website www.copanusa.com or email marketing@copanusa.net for more information.
Please note : Any products described on this page are for Research Use Only and not intended for clinical diagnostic procedures unless otherwise stated.
Date Published: 21st February 2017
Source article link: View
Related news