27th November 2012 Content supplied by:
New Captivate™ O104 Adds Important Capability to Established Range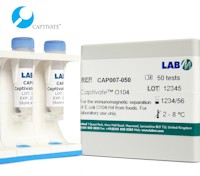 Lab M has launched Captivate™ O104, an important new addition to its established range of immunomagnetic separation (IMS) products. Captivate™ O104 is designed to meet the increasing need to rapidly test fresh sprouted seeds for the presence of E. coli O104.
Captivate™ O104 is used in the isolation of E. coli O104 (including E. coli O104:H4) from food, animal feed, and environmental samples. While E. coli O104:H4 is generally quite rare in humans, in 2011 it was responsible for a serious outbreak of illness in Europe associated with the consumption of fresh sprouted seeds, prompting calls for tighter rules on testing.
One of the challenges with E. coli O104:H4 is that it is biochemically ambiguous and therefore difficult to isolate from other STEC strains using conventional culture methods. IMS is the only procedure that makes specific isolation of E. coli O104 possible in a way that results in a viable microbiological culture.
Lab M's expertise in immunomagnetic separation dates back many years and Captivate™ is one of the company's best selling product ranges around the world. As well as producing specific sets of antibody-coated paramagnetic particles for separating targeted microorganisms, the company also offers a highly respected consultancy and custom coating service.
For further details visit www.labm.com
Date Published: 27th November 2012
Related news