25th October 2016 Content supplied by: Interscience
New 2000mL Sterile Bags for Microbiology from INTERSCIENCE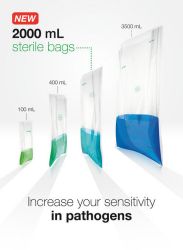 INTERSCIENCE is proud to launch a new range of 2000 mL sterile sample bags for microbiology in order to improve the sensitivity and security of pathogens tests.
What's unique? 
Ideal for pathogens research, Listeria monocytogenes and Salmonella research
Improved efficiency for big samples, up to 375 g
Cost effective for sample pooling
Convenient format and easy-to-use
With more than 20 models of sterile bags for microbiology covering a wide range of applications for the agro-food, medical, pharmaceutical industries, INTERSCIENCE manufacturer of the BagMixer® best-selling lab blenders for microbiology, offers the perfect combination for quick and safe analyses in microbiology.
In order to improve the sensitivity and security of pathogens tests, the sample testing standards are today performed in bigger quantities such as 50 g, 100 g, up to 375 g. INTERSCIENCE accompanies you in this evolution by delivering a new dimension of sterile bag of 2000 mL, in between the 400 mL and the 3500 mL bags range.
The new 2000 mL bags are perfect for analyzing samples up to 375 g, in a more convenient format than the larger 3500 mL bags. This new size also enables you to lower your analyses costs and are great for sample pooling such as 5 x 25 g samples. This dimension also enables analysis of 375 g samples diluted to 1/4 to use less diluent. The applications are typically E.coli 0157:H7 such as 375 g sample diluted at 1/4, Salmonella such as 5 x 25 g samples pooling diluted at 1/10 or 100 g at 1/10, Listeria monocytogenes such as 125 g sample diluted at 1/10.
In use with the DiluFlow® gravimetric dilutors range, the JumboMix® 3500 mL lab blenders and the full range of accessories, the new 2000 mL bags will ensure quick, safe and cost-effective microbiological analyses.
Tags:
Date Published: 25th October 2016
Source article link: View
Related news