28th January 2020 Content supplied by: various sources
Microbial Identification - a rapidmicrobiology Special Focus
Microbial identification has for years been based on phenotypic biochemical tests, but the advent of new techniques particularly MALDI-TOF has revolutionized the ID workflow in many routine labs, providing a faster, more accurate identification with reduced biohazard waste and all at a low cost per test.
Browse through the rapidmicrobiology special focus on identification, which includes contributions from contract service providers, proficiency testing programmes, there's input on how a water lab prepared their validation and cost case for a MALDI-TOF platform, plus summaries of recent identification workshops at Pharmig annual conference and a day of MALDI-TOF in London, plus take our quiz - are you a MALDI expert?
How to Use The MALDI-TOF Biotyper for Food Microbiology - Video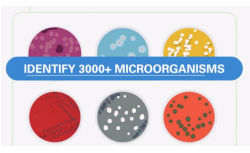 The MALDI Biotyper is validated by MicroVal according to the ISO 16140 part 6 standard and is an approved official method of analysis by AOAC international, the confirmation and identification results are provided directly with no need for additional data interpretation.

Please note : Any products described on this page are for Research Use Only and not intended for clinical diagnostic procedures unless otherwise stated.
Tags:
Date Published: 28th January 2020