5th March 2013 Content supplied by:
Lab M Reaps Rewards of Continual Investment in Quality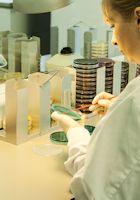 Microbiology company Lab M is reaping the rewards of significant investment in its programme of continuous quality improvement and in implementing enhanced quality systems in keeping with the principles of Good Manufacturing Practice (GMP). This came into particular focus as part of last year´s move into new commercial headquarters and manufacturing facilities. Highly positive customer audits of the Lab M HQ in Heywood, Greater Manchester, UK, have now included full inspections of the premises, products and processes, all documentation, procedures and training records.
Lyn Richards, Lab M´s Quality Assurance and Regulatory Affairs Manager, is responsible for maintaining Lab M´s compliance and accreditations and for managing the company´s programme of continuous improvement. "Our new facility was designed specifically to follow GMP principles and our whole Quality System has been developed to conform to this best practice," said Lyn. "Feedback from technical assessors and others who have examined our systems indicates that not only are the building layout and process flow all working to expectations, our document structure is appropriate and our Quality System is working as required."
Lab M´s move into new headquarters in July 2012, was part of the company´s strategic development and continued investment, and has involved expansion across all parts of the business. New capabilities are now coming on stream and, with that, the development of new products and services that will further support distributors and users of Lab M´s products around the world.
For full details of Lab M´s product range visit www.labm.com and download the latest Mini-cat to take a tour of the new facilities.
Please note : Any products described on this page are for Research Use Only and not intended for clinical diagnostic procedures unless otherwise stated.
Date Published: 5th March 2013