13th August 2012 Content supplied by:
Lab M Quickly Uses New Facility to Diversify Product Range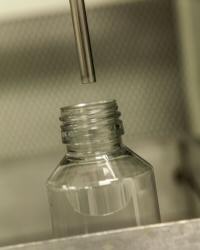 Microbiology company Lab M is already taking advantage of the additional manufacturing capability created by its move in June this year to new headquarters in Heywood, Greater Manchester, UK.
As part of the tightly specified fit-out of the premises, a key requirement was the installation of a state-of-the-art, self-contained clean manufacturing suite. This high-level facility is already enabling the company to produce a wider range of culture media, supplements and microbiology products whose manufacture demands the most stringently controlled environment.
"We were in the fortunate position at our previous plant of being able to develop and refine processes and procedures, which were then rapidly put into practice as soon as we moved into the new Quest Park site," said Ian Morris, Lab M's Managing Director. "Our new clean manufacturing suite has been specified to the highest levels, and with built in growth capacity, so I am looking forward to the continuing expansion of our offering in the coming months and to serving new markets and new application areas."
Lab M's new HQ represents the most significant investment in the company's history and houses all R&D, manufacturing, technical support and commercial operations. As well as having a comprehensive clean manufacturing suite, the building has been fitted out to provide high-tech R&D and QC laboratories, and separate wet and dry production areas, all supported by a sophisticated IT infrastructure. www.labm.com.
Please note : Any products described on this page are for Research Use Only and not intended for clinical diagnostic procedures unless otherwise stated.
Tags:
Date Published: 13th August 2012