12th March 2013 Content supplied by: Lab M
Lab M Hosts Meeting of ERAM at New HQ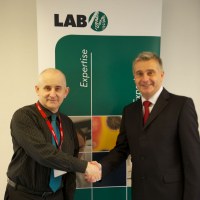 On Thursday 8 March 2013, members of the UK's Eastern Region Association of Microbiologists (ERAM) gathered at Lab M's headquarters in Heywood, Greater Manchester, UK. The occasion was one of three meetings the association holds each year to discuss food microbiology and accreditation issues, and the Lab M team was delighted to open up the company's new meeting facilities to the group. Having the ability to offer a venue to professional and industry bodies has long been a goal for Lab M's managing director Ian Morris, and with the general consensus heralding this inaugural event a great success, he is encouraged to open the doors to other organisations.
"Engagement is a key theme at Lab M. Working with customers, industry and professional bodies is something we have always done and since we moved into new headquarters last year, we are even better equipped to continue," said Ian. "It's been a huge pleasure to have the ERAM members with us for the day and to be in a position to make our facilities available for meetings such as this."
Ahead of the association's afternoon business session, attendees participated in technical presentations with the Lab M team and toured the premises, which house all Lab M's R&D, manufacturing and commercial operations.
ERAM Chair, Keith Watkins was impressed both with the facilities on offer and Lab M's organisation of the day. "It's quite an honour to be the first organisation to take advantage of Lab M's hospitality, and they certainly made us extremely welcome," he said. "While our business meetings are always limited to ERAM members only, the morning session with technical presentations from Lab M scientists was interesting and informative, with the bonus of a tour that allowed our members to go behind the scenes of microbiological media formulation and manufacturing. I certainly wish the team here every success in opening the venue to other organisations."
Lab M moved to its global headquarters in Quest Park, Heywood in July 2012. Occupying 19,000 sq ft and housing all R&D, manufacturing, technical support and commercial operations, the new building has been fitted out to exacting specifications with growth very much in mind.
For details of all Lab M products and services visit www.labm.com or contact ian.morris@labm.com if your organisation is seeking a meeting place.
Please note : Any products described on this page are for Research Use Only and not intended for clinical diagnostic procedures unless otherwise stated.
Date Published: 12th March 2013
Source article link: View