29th October 2013 Content supplied by:
'It's show time' for Lab M's new µPREP™ and Captivate™ products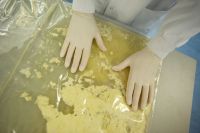 For anyone wanting to get their hands on Lab M's new µPREP™ bagged, ready-to-reconstitute media format for high throughput testing labs, two shows in November offer the perfect opportunity. See Lab M on Stand D4 at Lab Innovations in Birmingham, UK, on 6 and 7 November, and in Hall 1 Stand 22 at Medica in Düsseldorf, Germany, from 20 - 23 November. The Lab M team looks forward to demonstrating just how easy and quick it is to reconstitute and use µPREP™ media.
At both shows Lab M will be discussing the further extension of its Captivate™ range of Immunomagnetic Separation products for the isolation of Shiga Toxin-Producing Escherichia coli (STEC) strains associated with foodborne infection. Captivate™ O45 is in the final stages of testing ahead of launch early in 2014 and will take the number of E. coli products in the Captivate™ range to eight.
The Captivate™ range that will be on display already covers most of the requirements in pending European regulation and, with the addition of Captivate™ O45, will fully meet the 'Big Six' testing requirements for meat products in the USA. At Lab Innovations Dr Chris Potter, Head of Research and Development at Lab M, will make a 15-minute presentation discussing 'A magnetic approach to Non-O157 verocytoxin producing E. coli (VTEC)/Shiga toxigenic E. coli (STEC)'.
A warm welcome awaits all visitors to the Lab M stand at both Lab Innovations and Medica, and if you would like to make a specific appointment time please contact http://bit.ly/LabMInn
Tags:
Date Published: 29th October 2013
Related news