3rd April 2018 Content supplied by: INTERSCIENCE
INTERSCIENCE Introduces New Bag for Easy Media Prep and Blending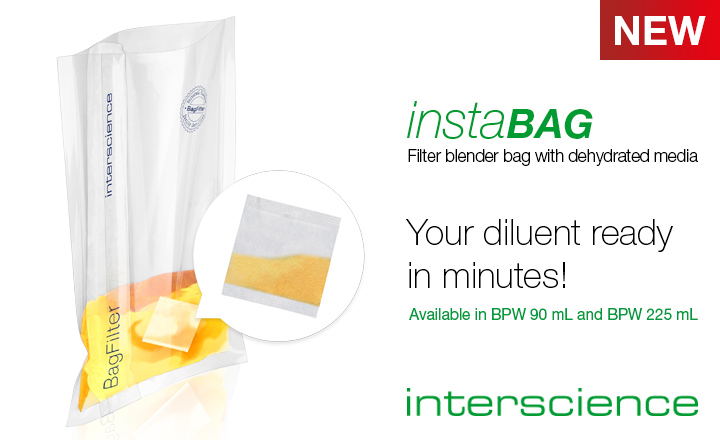 Your diluent ready in minutes with instaBAG instaBAG, the new filter bag with integrated dehydrated pre-dosed media, allows a 2-in-1 process to skip time consuming media preparation. Just add water and blend! The dehydrated media dissolves in the bag during the blending of the sample. The sample is then ready to be pipetted, in minutes. Integrated in a classic Sample Prep' workflow, instaBAG has all the advantages of a filter bag, with debris blocked by the filter during blending.
Available in BPW 90 mL and BPW 225 mL, instaBAg is space-saving, diminishes the waste and transportation and has a long shelf life with a light and humidity proof aluminum pouch.
"We wish to offer the user great work flexibility and better management of unforeseen cases such as stock-outs, schedule change… instaBAG is adapted to these moments, to give a quick solution preventing risks of blocking the analytical chain. » explains S.Viboud, Ph.D, Head of Microbiology at the INTERSCIENCE R&D Center.
Features include:
Innovative packaging: pre-dosed dehydrated diluent & integrated to the bag
Increased flexibilty: no need to prepare the diluent
Quick solution: no risk to break the analytical chain
Economical and green: no stock management
Developed and patented by INTERSCIENCE, instaBAG meets the needs of QC food safety laboratories. In compliance with ISO 11133 for culture media, instaBAG offers a cost-effective and simple solution to the media preparation problem.
Use the Request More Information button below for more information.
Tags:
Date Published: 3rd April 2018
Source article link: View