Improved BagFilter P - Blender Bags with a Lateral Filter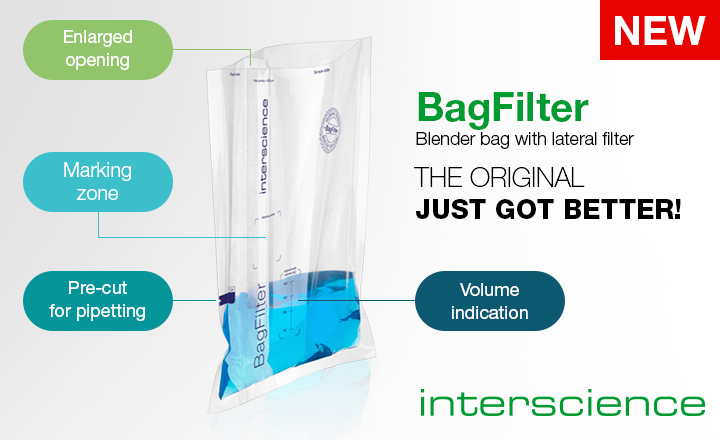 BagFilter P, the most popular of the INTERSCIENCE blender bag range for sample preparation just got better with more ergonomic and user-friendly features meeting the needs of Quality Control laboratories in the food industry and food hygiene analysis providers.
"The new features of the best-selling blender bags will simply make daily analyses easier!" said Sylvie Viboud, PhD. Head of Microbiology at INTERSCIENCE.
What's new ?
Pre-cut for pipetting - makes insertion of micropipette much easier
Marking zone - for clear sample traceability
Volume indication - checks volume of diluent
Enlarged opening - for easy insertion of pipette straws
BagFilter is adapted for: - Food and agricultural microbiological analyses (Ex: meat, cooked meat, fish, prepared dishes, fruits, vegetables…) - Pharmacological microbiological analyses (Ex: pills, tablets, blisters, powders…) - Environmental microbiological analyses (Ex: plants, soil, filtration membranes, tissues…)
Ask for samples at info@interscience.com or visit www.interscience.com
Tags:
Date Published: 16th February 2018
Source article link: INTERSCIENCE