5th January 2016 Content supplied by: Micronic BV
High Integrity Storage of Larger Sample Volumes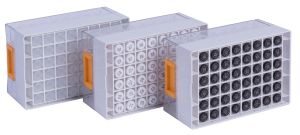 Micronic has expanded its range of high quality 4.00ml sample storage tubes to now include non-coded, alphanumeric and 2D data matrix coded formats.
Offering a working volume of 2.70ml these tubes provide an ideal solution for storing larger volumes in a wide variety of short-term and long-term sample storage applications. Incorporating an internal thread screw cap with silicon O-ring - Micronic 4.00ml tubes provide optimal sealing enabling high integrity storage at ultra-low temperatures. Benefiting from a flat bottom – Micronic 4.00ml tubes also provide an ideal solution for transportation or storage of solid biological samples.
Precision manufactured from ultra-pure grade polypropylene, in a certified Class 7 clean room production environment, Micronic 4.00ml tubes are available in bulk and in automation-compatible Micronic 48-4 Racks. This 48-well format rack features a laser etched 1D rack barcode on one side and 'Twist-Lock' to prevent tubes from turning during screw capping or decapping.
Micronic 4.00ml tubes with a 2D Data-Matrix code permanently laser-etched on the bottom of the tube are the storage medium of choice for customers demanding long-term reliable code reading. The 4.00ml alphanumeric tubes are a great option for customers who just need to identify their samples visually. For labs requiring larger volume storage in a top quality tube – Micronic 4.00ml non-coded tubes provide a cost-competitive solution.
To enhance visual identification of samples - Micronic screw caps for 4.00ml tubes are available in 12 colors. Additionally, Micronic screw caps are designed to be closed with a 'single turn' to ease opening and closure during manual processing.
For further information please visit www.micronic.com/product/400ml-tubes or contact Micronic Europe on +31-320-277070, Micronic America on +1-484-480-3372, Micronic Asia on +31-320-277099 or email sales@micronic.com. This product will be available for shipping early in 2016.
Please note : Any products described on this page are for Research Use Only and not intended for clinical diagnostic procedures unless otherwise stated.
Date Published: 5th January 2016
Source article link: View
Related news