13th June 2014 Content supplied by: Rapid Micro Biosystems
Growth Direct™ System for Environmental Monitoring and Bioburden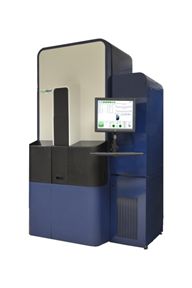 Rapid Micro Biosystems, the provider of automated, rapid, non-destructive detection and enumeration technologies in microbiology, today announced the launch of the next generation of Growth Direct™ System and accompanying applications. The Growth Direct™ System is designed to automate the incubation, detection, enumeration and reporting steps for environmental monitoring and bioburden applications in pharmaceutical quality control laboratories.  The technology is based on the detection of the natural auto-fluorescence of microorganisms; requiring no additional reagents to detect growing colonies. The Growth Direct™ System can handle both the environmental monitoring and bioburden (in-process and water) applications.
The environmental monitoring application for the Growth Direct™ System automates the high volume testing typically found in the combination of air, surface and personnel monitoring.
Delivers efficiency

: Automated reading and data transfer to laboratory information management systems (LIMS) frees personnel from tedious handling and counting of hundreds of plates a day allowing resources to focus on higher value activities.

Audit trail:

The system provides a complete, error-free record of all activities and results.

System can be located near production

: On a large site, the Growth Direct™ System can be located near manufacturing, increasing efficiency and reducing the travel risk with critical samples.
The Bioburden Testing application for the Growth Direct™ System advances the already validated technology in the area of in-process bioburden and water testing.
Automated

: Tedious, manual steps associated with the assay are eliminated.  Users simply prepare the sample and load it into the system. The system automatically handles serial incubations and processes samples 24/7.

Rapid results

: Positive results starting within hours and final results in about half the time of the compendial method.

Simplified Validation

: Because the test is considered "automated compendial", the validation requirements are lessened, speeding time to value.
"These applications build upon the existing Growth Direct™ technology currently used in FDA and EMEA regulated manufacturing facilities," said Sarath Krishnaswamy, VP R&D for Rapid Micro Biosystems. "The system combines robust automation, state of the art camera technology and powerful image analysis software to automatically analyze and enumerate any growing colonies."
"We developed the Growth Direct™ System and the applications from in-depth customer input while meeting the rigorous requirements of the industry," states Julie Sperry, Chief Commercial Officer. "Demand for the product has been very strong; customers immediately recognize the value the system will deliver their organizations."
"Our team has been working diligently to deliver a solution that revolutionizes the operations of Pharmaceutical Quality Control," said Steve Delity, President and CEO of Rapid Micro Biosystems. "The entire company is poised to launch these new products and facilitate successful customer implementation while continuing the development of two additional systems; the Growth Direct™ System for Sterility testing and a Combination Growth Direct™ System that provides the ultimate in flexibility by concurrently testing any of the applications."
Tags:
Date Published: 13th June 2014
Source article link: View