1st February 2018 Content supplied by: Hygiena International Ltd
EnSURE™ - One Instrument for Multiple Quality Indicators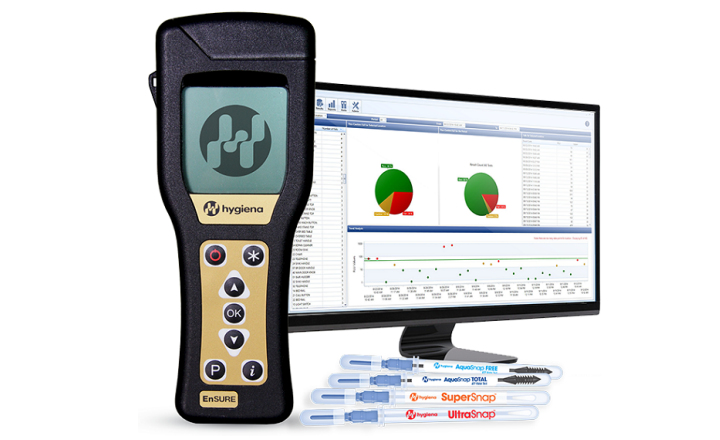 Hygiena's EnSURE monitoring system uses one instrument to collect, analyze, and report data from multiple quality indicators. Featuring new state-of-the-art technology and patented designs, the EnSURE is a simple-to-use, flexible, and accurate quality monitoring system.
Measures tests for ATP from surface and liquid samples, high sensitivity ATP/Allergen Prevention, Total Viable Count, Enterobacteriaceae, Coliform, E. coli, Listeria spp., Alkaline Phosphatase, and Acid Phosphatase
Sensitive - can detect down to 0.1 femtomoles of ATP
Advanced photodiode technology - internal solid state detector is not damaged by drops or shakes
Memory capacity:
100 test plans
200 user IDs
5,000 test locations
Small, lightweight, handheld instrument (0.57 lbs., 7 x 18. x 3 cm), quick-test mode enables ad-hoc testing, large viewable screen with backlight and optional bold text, powered by 2 x AA batteries for several months of uninterrupted use, connects to SureTrend software via USB.
Watch Hygiena EnSURE & SystemSURE Plus Quick Start Guide or visit www.hygiena.com/ensure-food-service.html
Tags:
Date Published: 1st February 2018
Source article link: View
Related news