31st August 2016 Content supplied by: Technical Service Consultants Ltd
Complete All-in-One Hygiene Kits for Sampling Meat Carcasses
Technical Service Consultants (TSC) Carcass Sampling Sponges are simple to use, reliable and cost effective. The kits comprise of a biocide free pre-moistened sponge used for the recovery of TVC and Enterobacteriaceae (including Salmonella and E.coli) from surfaces of beef, pork, lamb and other meat carcasses.
Designed according to Food Standard Agency recommendations complying to EC Commission 2073/2005 on foodstuffs and compliant with ISO 17604:2003.
TSC manufacture carcass sponges in different formats and with different dilutions such as 0.9% saline and Peptone Saline Diluent (MRD). For environmental surface sampling Buffered Peptone Water Sponges are available to use where no chemical residues are present and which makes the product perfect for poultry house environments
Carcass Sponges are available in an Easy Open Stomacher bag format dosed with 10ml of diluent as well as on a Stick and in a Tub which gives end user options for application.
The Carcass Sampling Sponge kits are an 'all in one product' The sponge remains in the bag throughout the duration of the test thus limiting potential contamination. The easy open Stomacher bag can act as an optional reversible hand cover to grasp the sponge and sample. The sponge remains within the bag for transportation to the laboratory as well as acting as the ideal stomacher for use within the laboratory when processing.
For more information visit the TSC website www.tscswabs.co.uk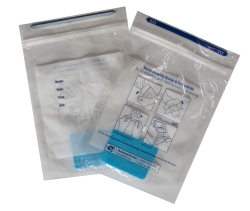 Meat Carcass Sampling Kits
- TS/15-B:NaCl 50cm blue sponge dosed in Saline [0.9% NaCl] in easy open stomacher bag - TS/15-A:NaCl 50cm blue sponge dosed in Saline [0.9% NaCl] in clear plastic container + glove - TS/15-U:NaCl Envirostik blue sponge dosed in saline [0.9% NaCl] in easy open stomacher bag - TS/15-B:PSD 50cm blue sponge dosed in peptone saline dilution [MRD] in easy open stomacher bag
Environmental Surface Sampling Kits TS/15-BPW 50cm Blue Sponge dosed with Buffered Peptone Water in Easy Open Stomacher Bag
Meat Carcass Sampling Accessories TS/15-T Blue Plastic 10 x 10 Individually wrapped sterile template
Try before you buy – for a free product sample please contact sales@tscswabs.co.uk or contact us using the 'Request More Information' button below.
Tags:
Date Published: 31st August 2016
Source article link: View