Microbiome R&D and Business Collaboration Forum: USA
: 29 Oct 2018 - 30 Oct 2018
: San Diego, United States
Sector: Clinical
Type: Conference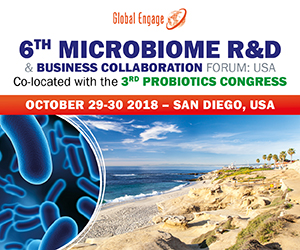 The Global Engage series is rapidly gaining a fantastic reputation as the number one microbiome networking event.
Join around 400 industry, academic and investment leaders, in San Diego this fall, to discuss the microbiome in health and disease; challenges and opportunities in moving research towards commercialization; and potential partnerships and collaborations.
Learn from the 70-strong speaker faculty as they discuss the latest developments in the microbiome and probiotic space..  Engage in expert-led roundtable discussions and extended panel discussions.  Analyse the newest biotech's and start-ups and  broaden your business connections within the field.
A great opportunity to showcase exciting developments in your research and seek partnerships and funding within the industry.
For more information visit www.global-engage.com
Details

Venue
Paradise Point Resort and Spa
San Diego
CA
United States