Milliflex® Rapid System 2.0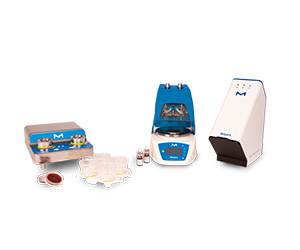 Milliflex Rapid System 2.0 for rapid microbial detection
Principle: ATP bioluminescence technology for the early detection of viable microorganisms.
Automation: Yes
Approvals: The ATP bioluminescence technology used by the Milliflex® Rapid System 2.0 is recognized as an alternative detection method by the FDA and PDA Technical Report No. 33. Software meets requirements of FDA Regulation 21 CFR Part 1
Suitability: Compatible with a wide range of filterable samples from the pharmaceutical, beverage, and personal care industries: Raw materials, sterile and non-sterile final products, water samples, mineral water, and other beverages, and cell-based matrices.
Capital equipment required: Yes
Description:
The Milliflex® Rapid 2.0 system combines membrane filtration and ATP bioluminescence to detect, image, and quantify microcolonies of bacteria, yeasts, and molds up to 4x faster than compendial bioburden or sterility testing. Compatible with a variety of filterable samples in the pharmaceutical, ATMP, biotech, and personal care industries, it helps to improve process control and product yield while bringing forward end product release. In case of contamination, corrective action can be taken earlier, avoiding loss of time, money, and production capacity.
Key Points:
Consistently fast and reproducible results
Up to four times faster results than membrane filtration or pour plate methods
Correlation of CFU counts with those of traditional methods
Data integrity thanks to 21 CFR Part 11 compliant software
Easy handling and validation
Areas:
Assay Development

Cosmetic/Personal Care

Food & Beverage

Pharmaceutical

Water