HardyCHROM™ ESBL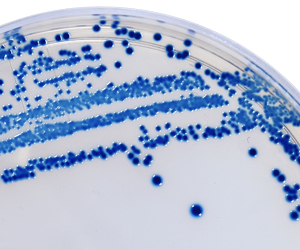 Principle: Identification of ESBL
Automation: NO
Approvals: Company is licensed by FDA and its quality management system is ISO certified.
Suitability: Hospital Acquired Infection Control
Capital equipment required: NO
Description:
HardyCHROM™ ESBL is a selective and differential chromogenic medium which is intended for the qualitative and presumptive detection from stool specimens of:
Enterobacteriaceae that are potentially non-susceptible to ceftazidime and cefpodoxime;
Extended-spectrum beta-lactamase (ESBL)-producing Escherichia coli, Klebsiella pneumoniae and Klebsiella oxytoca.
Key Points:
Results in as little as 18 hours
Easy-to-read color read-out
Escherichia coli produce pink colonies
Proteus mirabilis produce yellow/gold colonies
Klebsiella pneumoniae produce blue colonies
Click here for further information
Please note : Any products described on this page are for Research Use Only and not intended for clinical diagnostic procedures unless otherwise stated.