ANSR® Molecular Platform for Pathogen Detection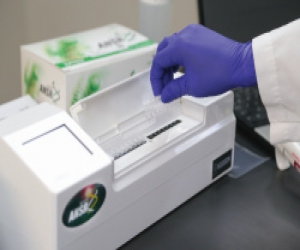 Manufacturer: Neogen Europe Limited
Principle: ANSR (Amplified Nucleic Single-temperature Reaction) patented isothermal DNA amplification
Automation: YES
Approvals: Salmonella AOAC-PTM 061203, NF Validation NEO 35/02-05/13 Listeria spp. AOAC-PTM 101202, NF Validation NEO 35/03-01/16 Listeria monocytogenes AOAC-PTM 061506, NF Validation NEO 35/04-03/16 E.coli 0157:H7 AOAC-PTM 111502 Campylobacter AOAC-PTM 071601
Suitability: Foodborne pathogen detection
Capital equipment required: YES
Description:
ANSR (Amplified Nucleic Single-temperature Reaction) utilises patented, unique amplification reaction technology for in vitro DNA amplification at a constant temperature. ANSR provides genetic level detection of low level specified targets for
Salmonella
,
Listeria
spp.,
Listeria monocytogenes, E.coli
0157:H7 and
Campylobacter
in as little as 10 minutes following enrichment. ANSR's enrichment and assay result in minimal matrix effects compared to conventional methods, in both food matrices and environmental samples.
Key Points:
Pooling protocol available for Listeria spp.
New technology offering accurate DNA or RNA based detection
Eliminates many of the limitations of other technologies available
Greater accuracy providing genetic level discrimination of specified targets at 1 cfu per sample
Faster detection time with results in as little as 24 hours
Minimal investment and footprint