6th June 2016 Content supplied by: Micronic BV
Tube Selector Manually Picks One Individual Tube from a Rack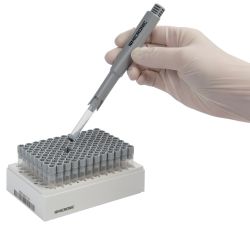 The new Micronic Tube Selector is a user friendly tool offering the convenience of single-handed operation to manually pick individual tubes from any tube storage rack without needing to lift them.
For laboratories looking to reduce sample contamination the new Micronic Tube Selector enables 'handsfree' manual picking and placing. An easy wipe clean surface further reduces the chances of sample contamination.
A single thumb button enables the rapid and secure picking of a sample storage tube. Pressing the thumb button again releases the tube from the Tube Selector. The grippers of the tool are optimized to be compatible with all 96-well format Micronic tubes sealed with either Screw Caps or Push Caps. The versatile Tube Selector is available as a low cost stand-alone product or as part of a Micronic Sample Storage Starter Pack.
For further information please visit www.micronic.com/product/tube-selector or contact Micronic Europe on +31-320-277070, Micronic America on +1-484-480-3372, Micronic Asia on +31-320-277099 or email sales@micronic.com.
Please note : Any products described on this page are for Research Use Only and not intended for clinical diagnostic procedures unless otherwise stated.
Tags:
Date Published: 6th June 2016
Source article link: View