20th January 2015 Content supplied by: Technical Service Consultants Ltd
Confident in Your Disinfectant? Confirm with TSC New Simplified Sponge System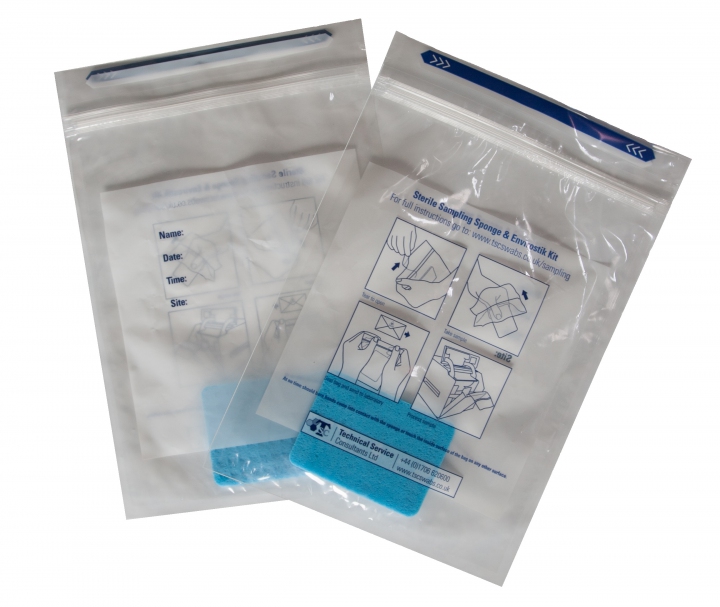 Disinfectants made too weak will only suspend the growth of bacteria without providing total kill [known as the bacteriostatic effect] especially when protein or dirt are present.
Over time, constant incorrect useage will give rise to resistant strains increasing potential for brand damaging recalls. Whilst untrue surface/environmental results will permit contaminated product to be released for general sale. Only by using Technical Service Consultants [TSC] Sponge Sampling Kit with Neutralising Buffer can you guarantee uncovering hidden contamination.
This simple 'All in One' hygiene monitoring kit, provides user confidence that a critical surface is free of living microorganisms after disinfection. This is vital when it comes to protecting your consumers and brand:
* Uncover - hidden contamination exposed * Neutralise - disinfectant residues gone * Save Time - a total sampling solution * Easy open, quick & safe - no scissors needed * Superior - Sponge collection and release * Secure - re-sealable for safe sample transport * Strengthen - brands protected
The new, simplified design doubles as a glove and a stomacher bag for convenience. Effortless sampling with reduced contamination risk as no sample transfer necessary; straight from sampling to stomacher. Food safe pre-moistened blue sponge is ideal for sampling larger surface areas and critical environments including; food production, clinical, veterinary, pharmaceutical and cosmetic facilities.
Expose Potential Contamination Protect Your Brand
All sampling devices conform to ISO 18593:2004 requirements and are gamma irradiated for assured sterility.
For details about the Enviroscreen range and product samples please visit www.tscswabs.co.uk/sampling; email: sales@tscswabs.co.uk or call +44[0]1706 620600
Tags:
Date Published: 20th January 2015
Source article link: View
Related news