14th September 2016 Content supplied by: Labplas Inc.
Transport Your Lab Samples Safely with RACK'N'LAB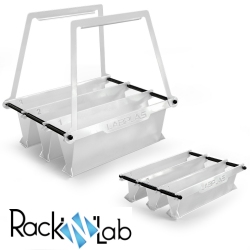 Labplas' RACK'N'LAB is specially designed for safe, secure transport of sample bags in food and environmental water testing laboratories and is also suitable for use in many other industry sectors. Its innovative design allows multiple bags to be used whilst being held upright without the need for bottles or specifically designed bags.
This light weight and versatile rack is available in two different sizes and takes up minimal space as it can be stored flat ready for quick, easy assembly when required.
Features & Benefits
Made of FDA approved virgin polypropylene
Shipped in one inch thick boxes with three flat racks inside
Assembled or dismantled in less than one minute
The sturdy handle facilitates safe transportation
Identified rows allow for easy identification of samples
Up to 40ml can be retained in case of a leak
Racks are stackable and will easily fit in standard coolers
Autoclavable
"WITNESS CHANGE TODAY…" watch the YouTube video and discover the new RACK'N'LAB from LabPlas.To learn more about the latest LabPlas products for sterile sampling and transport for laboratory analysis visit www.labplas.com
Tags:
Date Published: 14th September 2016
Source article link: View