2nd July 2015 Content supplied by: Priorclave
The Priorclave Q63 Lab Autoclave Breaks the Rules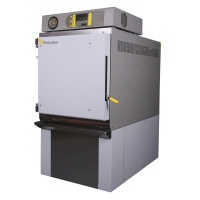 With a taller profile than that found in most 'cylindrical' machines, the Priorclave Q63 autoclave is an extremely viable alternative to large more costly rectangular chamber autoclaves whist being able to achieve the same sterilising throughput.
Since chamber size has a major influence on autoclave selection, Priorclave designed the cylindrical chamber of the Q63 with a taller profile than that found in most 'cylindrical' machines, giving these autoclaves an impressive load capacity ideally suited to sterilising larger bulky items as well as enabling small and taller items could be sterilised in a single process.
The Priorclave Q63, 320 litre front loading capacity autoclave has given laboratories a real opportunity to acquire this more economically priced cylindrical chamber design rather than investing in a large rectangular chamber steam steriliser.  Users of the Q63 autoclave may also benefit from lower overall running costs associated with reduced power and water usage.
At Priorclave's manufacturing centre in SE London all cylindrical chambers are constructed in 316 stainless steel using a bespoke seam welding system.  This seam welder was designed by the company to create one of the strongest, straightest and smoothest seams to be found in any round chamber autoclave.  This is just part of the attention to detail given to each autoclave built, ensuring overall strength, reliability and exceptional performance of every Priorclave leaving this dedicated manufacturing centre.
The 320 litre Q63 front loading autoclave has a 630mm chamber which is 1025mm deep and for easy, convenient loading Priorclave has given the Q63 a loading height of just 725mm.  Whilst offering increased loading, the combination of features such as forced air cooling to reduce cycle times and automatic timed free-steaming for improved air removal add to the overall sterilising performance of the Q63 autoclave.
All operating settings are programmed easily through the Tactrol® 2 microprocessor controller which is standard across the entire Priorclave range.  This can be configured to log all temperature, pressure time and cycle data into a single compact archive file which can be subsequently downloaded onto a USB flash drive for transfer to computer.  This enables operational data to be forwarded from anywhere in the world direct to Priorclave's UK Service Centre for technical assistance in fine-tuning and clarification of autoclave performance if required.
Priorclave, a household name within the global laboratory autoclave market, has developed and manufactures an impressive range of top and front loading steam sterilisers that include benchtop as well as front loading rectangular, power door and double-ended designs, laboratory autoclaves that have become synonymous with quality, reliability and highly efficient autoclaving processes.
The build quality of the Q63 – 320L front loading autoclave incorporated epoxy coated panels and frame members which are treated with an anti-bacterial agent highly effective against all bacteria and fungi including MRSA, preventing cross contamination within the laboratory.
The Q63 320L Priorclave is part of an extensive autoclave range manufactured in the UK and follows one of the most stringent design and build programs, conforming to either PED or ASME standards depending on which country the autoclave will be installed.
To find out more about the Q63 320L- Priorclave's front loading 320L capacity autoclave visit www.priorclave.co.uk
Please note : Any products described on this page are for Research Use Only and not intended for clinical diagnostic procedures unless otherwise stated.
Tags:
Date Published: 2nd July 2015
Source article link: View