7th October 2013 Content supplied by:
Same Shift Test Results for Coliform and E.coli now AOAC RI Approved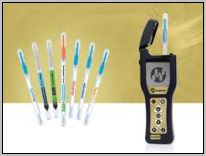 The novel MicroSnap test for Coliform and E. coli from Hygiena has been certified by the AOAC Research Institute's Performance Tested MethodsSM Program. MicroSnap is a novel rapid detection systems based on the utilisation of specific substrates linked to a light emitting reaction. It is claimed to be the only microbiology test to give results in 8 hours or less using a simple, low cost, portable, instrument platform.
Certification by the AOAC Research Institute means that customers can use the test with confidence knowing that all claims are independently verified against strict validation criteria and international reference methods. The rapid results enable food and beverage processors to get actionable information in the same working day or shift that enable cost savings and increased productivity through faster risk assessment and positive release of sensitive products.
MicroSnap's performance was certified to measure both Coliform and E. coli in a wide range of products including raw and cooked meat and fish, milk, mineral water and ready-to-eat products such as sandwiches and green salad leaves. MicroSnap can be applied to many other products and the integrated swab provides a simple application for testing solid surfaces.
MicroSnap is certified to give a quantitative result after 6 hours and enumerates the bacteria in the range 100 - 10,000/g. Results can also be achieved in 3 - 6 hours depending on the desired specification. The test also gives presence/absence results in 8 hours i.e. <10/g for solid foods and
The large dynamic range of the test reduces the need for serial dilutions thus saving the time and cost of sample preparation required for the conventional microbiology. MicroSnap's simple convenient test format uses a liquid broth that enables every viable bacteria to be detected thus giving a more precise result than colony counting methods.
Other tests in the MicroSnap range include Total Viable Count and newly developed tests include Enterobacteriacaea and Listeria. All tests are performed on the EnSURE instrument which is also capable of measuring adenosine triphosphate (ATP) for hygiene monitoring at both standard and high sensitivity formats, and together with another enzyme specific test (ZymoSnap), acts as process monitors for both the diary and meat industries.
An instructional demonstration of MicroSnap Coliform & E. coli testing may be found on Hygiena's YouTube page at www.youtube.com/user/HygienaTV or view the video directly here.
For further information and free trial samples, please contact Hygiena International Ltd enquiries@hygiena.com
Tags:
Date Published: 7th October 2013
Related news