2nd February 2016 Content supplied by: Campden BRI
Real-Life Scenarios Used to Evaluate Biocides for Food Industry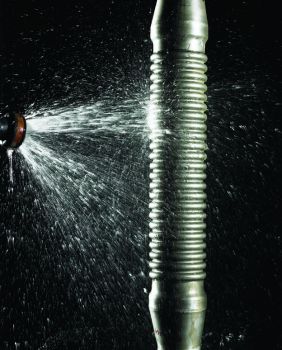 With the search underway for alternative biocides, Campden BRI has launched a new service to evaluate their effectiveness in the microbial decontamination of food contact services.
Campden BRI's experts will simulate real-life scenarios in their microbiology process hall to test the effectiveness of biocide alternatives in the decontamination of equipment and food surfaces from pathogenic and other microorganisms.
Matrices, such as food debris, fat, oil and grease can be applied to surfaces to enable decontamination in real-life scenarios to be simulated and tested – generating meaningful quantitative data. Equipment and product manufacturers also have the option to get their equipment individually assessed at the facility.
Joy Gaze, Head of Heat Resistance and Decontamination Group at Campden BRI said, "We can simulate conditions that are specific to a manufacturing site - from the surface materials, to the combinations of bacteria, even the type of food that will build up on the equipment - providing assurance and confidence that the product and the way it is applied will decontaminate effectively."
The new service has been launched in response to the need for food manufacturers to reduce the use of biocides following the lowering of the maximum residue levels of Quaternary Ammonium Compounds used for disinfectant purposes in all foods from 0.5mg/kg to 0.1mg/kg by the European Commission in August 2015.
Tags:
Date Published: 2nd February 2016
Source article link: View