16th March 2017 Content supplied by: Technical Service Consultants Ltd
Protect – the Number One Choice for Culture Storage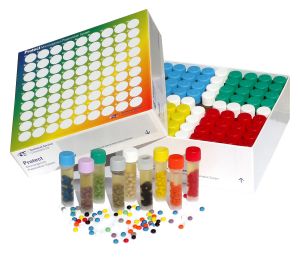 For over 30 years Technical Service Consultants [TSC] have been manufacturing and exporting globally Protect – the original low temperature bead storage system ideal for your long term maintenance of stock and quality control microorganisms.
Preserving in Protect sustains the exact strain, permitting consistent results every time. TSC unique formulated cryopreservative solution prevents damage while frozen supporting the cell while suspended. Colour coded caps and beads combined with free standing slim line vials available in both Moisture Resistant grid reference freezer tray and the option of Polypropylene tray with additional accessories to help with application. Protect provides the ideal reliable long term preservation method for a wide range of fastidious and non-fastidious microorganisms.
Protect Multipurpose
Long term storage of vast range of bacteria, yeasts and fungi
Frozen storage of fastidious and non-fastidious organisms
Perfect for frequent users for consistent and reliable performance control
Available in Blue, White, Green, Yellow, Red or Mixed colour
Option of Freezer proof moisture resistant and Polypropylene trays with accessories [loops and needles]
TSC Cryopreservative formulation ensures longer survival of fastidious bacteria and higher quantitative recoveries
Protect Select offers end users a more specialised range created by customer demand to optimise recovery without extra workload: Protect Select Anaerobe
Improved viability and performance
Reduced oxygen permeability and removal
Support and maintains cells environment stages to reduce cell loss
Can be used for delicate organisms
Orange caps and beads
Protect Select Dairy
Based on BSI/ISO formulation and recommendations
Dedicated storage of microorganisms isolated from dairy products, rinse waters and environmental samples
Lilac caps and beads
Protect Select Yeasts and Mould
Easier suspension of fungal spores with spore grab formulation
Improved Mycology Formulation for cell support
Neutral PH for increased cell stability
Grey caps and beads
Protect Select Meat Free
Provides biotechnological & pharmaceutical sector with BSE/TSE free alternative
Manufactured from certified vegetable derivatives
Assured storage of valuable microorganisms used within the manufacture of proprietary or veterinary medicines
Suitable for transformed/plasmid microorganism storage
Clear caps and black beads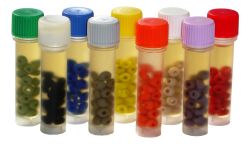 Try before you buy, for more technical information and a free sample use the 'Request More Information' button below or contact sales@tscswabs.co.uk
Please note : Any products described on this page are for Research Use Only and not intended for clinical diagnostic procedures unless otherwise stated.
Date Published: 16th March 2017
Related news