29th September 2015 Content supplied by: Priorclave Ltd.
Priorclave Reveals the Inside Story at Medica – Stand 1EO2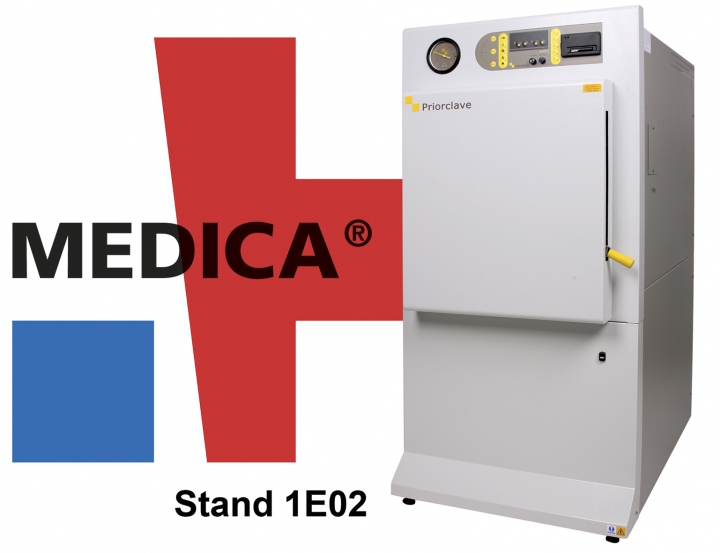 British laboratory autoclave manufacturer Priorclave will reveal the quality of its autoclave build through the QCS EH100 steam steriliser that will take centre stage on stand EO2 in Hall 1 at the forthcoming Medica* exhibition.
A clear side panel will enable visitors to the Priorclave stand to view the clean, structure lines of the autoclave build, just part of a story that has helped the company's gain a global presence, delivering durable and reliable autoclaves whatever the format - benchtop, top and front loading free-standing, double-door, stackable and powerdoor worldwide.
The QCS EH100 that will be featured at Medica is a 100 litre capacity, front loading autoclave equipped with a 500mm diameter stainless steel chamber and sterilising temperatures up to 140oC at 2.4bar, all easily controlled through the advanced Tactrol®2 microprocessor control system using single push-buttons. One touch controls allows for adjustment of temperature and time for simple cycles to fully featured multi-programme operation. In addition a log is stored of the sterilising cycle, data such as temperature, pressure and time is held in an archive file which can be subsequently downloaded.
An advantage for any busy laboratory is a secure key-lock switch on the front of the control panel which governs access to certain parameter settings.
Built to International Standards, the QCS EH100 autoclave incorporates epoxy coated panels and frame members treated with an anti-bacterial agent which is highly effective against all bacteria and fungi including MRSA, E.coli, Listeria, Legionella, Campylobacter, Salmonella and Pseudomonas, helping to preventing cross contamination within the laboratory.
This laboratory autoclave will appeal to laboratory managers in diverse industrial sectors such as food, drink, dairy, pharmaceutical, agricultural, education, healthcare as well as dedicated research establishments for sterilising applications such as media preparation, liquids and diluent, waste, glassware instruments and pieces of apparatus that need superior cleansing.
For more information on the Priorclave range of laboratory autoclaves visit - www.priorclave.co.uk/
* MEDICA - Dusseldorf, Germany – 16th to 19th November 2015
Please note : Any products described on this page are for Research Use Only and not intended for clinical diagnostic procedures unless otherwise stated.
Tags:
Date Published: 29th September 2015
Source article link: View