6th May 2014 Content supplied by: Priorclave
Priorclave Launches Autoclave Consumables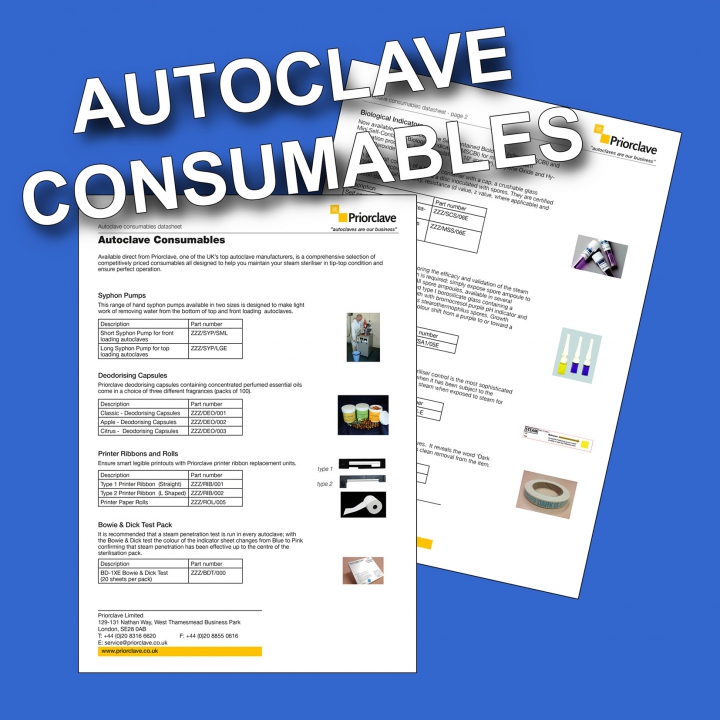 Laboratory autoclave manufacturer Priorclave announces the availability of a very much extended range of autoclave consumables.  The new products have been carefully selected by Priorclave to ensure that users of steam sterilisers have access to an extremely competitively priced range of the more frequently used items.
In addition to current items such as deodorising capsules containing concentrated perfumed essential oils which come in a choice of three different fragrances and printer ribbons, the new consumable range includes more than eight new additions.  New products include Bowie & Dick test packs which confirm whether steam penetration into porous loads has been effective, Spore Ampoules for monitoring the efficacy and validation of the steam sterilization processes as well as more specialised items such as Self-Contained Biological Indicators (SCBI) and Mini Self-Contained Biological Indicators (MSCBI) for monitoring steam sterilisation processes (spore population = 105 and 106).
With the launch of this more comprehensive autoclave consumable product range Priorclave has brought to market many new items that will work successfully with any autoclave brand, testing predominantly the efficiency and effectiveness of the steam sterilising process. All consumable products being introduced by Priorclave are available directly from the company's UK service team based in SE London.
Please note : Any products described on this page are for Research Use Only and not intended for clinical diagnostic procedures unless otherwise stated.
Tags:
Date Published: 6th May 2014
Source article link: View