9th May 2016 Content supplied by: Labplas Inc.
New Way of Dispensing Blender Bags in Your Lab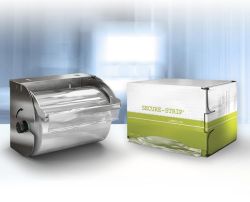 LabPlas have introduced a novel way of dispensing blender bags. This new approach to the conventional blender bag packaging offers quicker, easier dispensing.
Features and Benefits include:
Tear-off junction between each bag ensures internal sterility right up until the time of use
No tear off strip
Easy storage and is transportable anywhere in the lab
Sterility confirmation documentation (CofA) is available in each box (traceable certificate)
Product meets USDA and ACIA industry standards and is made of FDA-compliant material
To learn more about the Secure-Strip® dispenser please visit www.labplas.com/en/secure-strip or watch the YouTube video here.
Tags:
Date Published: 9th May 2016
Source article link: View